DUTCH REBELLE TAKES OVER OBERON THEATER IN HARVARD SQUARE, MA (MAY 2019)
DUTCH REBELLE NAMED 'BEST OF BOSTON'S' 2018 BEST MUSIC ARTIST BY BOSTON MAGAZINE
Dutch ReBelle featured in WBUR "The Artery" FOR UPCOMING 'BANG BANG' ALBUM
DUTCH REBELLE AT MFA LATE NITE
Dutch rebelle Featured on Instagram by Bank of America
BASED BOSTON: BRIDGE THE GAP (EPISODE 7) - DUTCH REBELLE
Dutch ReBelle is featured in "The Roaring Crowdfund" podcast and live panel for Berklee Online (berklee college of music)
DUTCH REBELLE PERFORMS LIVE AT 'FIRST NIGHT BOSTON 2018' AT COPLEY SQUARE
"FEELS LIKE HOME" WINS BOSTON MUSIC AWARD FOR MUSIC VIDEO OF THE YEAR (UNSIGNED ARTIST) 2017!
The "Bang Bang Experience" (Kickstarter) !
I PASSED MY GOAL in 30 DAYS!!! #Kickstarter
DUTCH REBELLE RELEASES 'NO STEMS' PROJECT ON ALL DIGITAL PLATFORMS
THANK YOU TO EVERYONE THAT CAME OUT TO MY "NO STEMS" LISTENING PARTY ON 9.21 AT MASS APPAREL IN ALLSTON,MA!
9.16: dutch rebelle at trillfest hosted by trillfit!
Over 300 people came through to the University Park Commons in Cambridge, MA for workouts and wellness taught by TrillFit instructor Meli Valdez and a mediation session led by Jazerai Allen- Lord. The event also featured performances by BIA, Kari Faux and a Braid Bar hosted by Salon Hairapy of Malden, MA.
Dutch ReBelle x Marcela Cruz release video for "Don't Know Why" and "MoPhizzy"!
Dutch ReBelle performs LIVE at #IDFGoma2017 in Goma, Congo!
Dutch ReBelle headlined an electrifying post-power outage performance for thousands at the Independence Day Festival in Goma, Congo. ReBelle joined artists such as Mr. Eazi, Diamond Platinumz and Navy Kenzo to celebrate the first annual festival. Special thanks to Heather Kiernan, Hagi Louzaki and Robert Ngoy for putting this amazing show together and stay tuned for music from Dutch ReBelle and Goma artist S. Black Winner!
Dutch ReBelle featured in the #BostonMusicIs campaign!
The 'boston music is' campaign was developed as part of the 25forty project, a collaboration between MullenLowe and students at the Boston Arts Academy to help raise awareness about the excellent music being made in the many neighborhoods around our city. Be sure to snap a pic if you see this on Commonwealth Avenue in Boston and learn more about the #BostonMusicIs campaign below!
Dutch ReBelle x marcela cruz shoot video for the upcoming Nelly ProTools produced "Don't Know Why"!
Dutch ReBelle teams up with singer Marcela Cruz for the Nelly ProTools produced "Don't Know Why" sampling reggae classic "I Don't Know Why" from Buju Banton and Wayne Wonder. Stay Tuned..
Dutch ReBelle to perform at The Sinclair in cambridge, ma on 7/21!
Dutch ReBelle hosts the Elevate Benefit Mixer's 1st Food Fair in Canton, MA for korektho!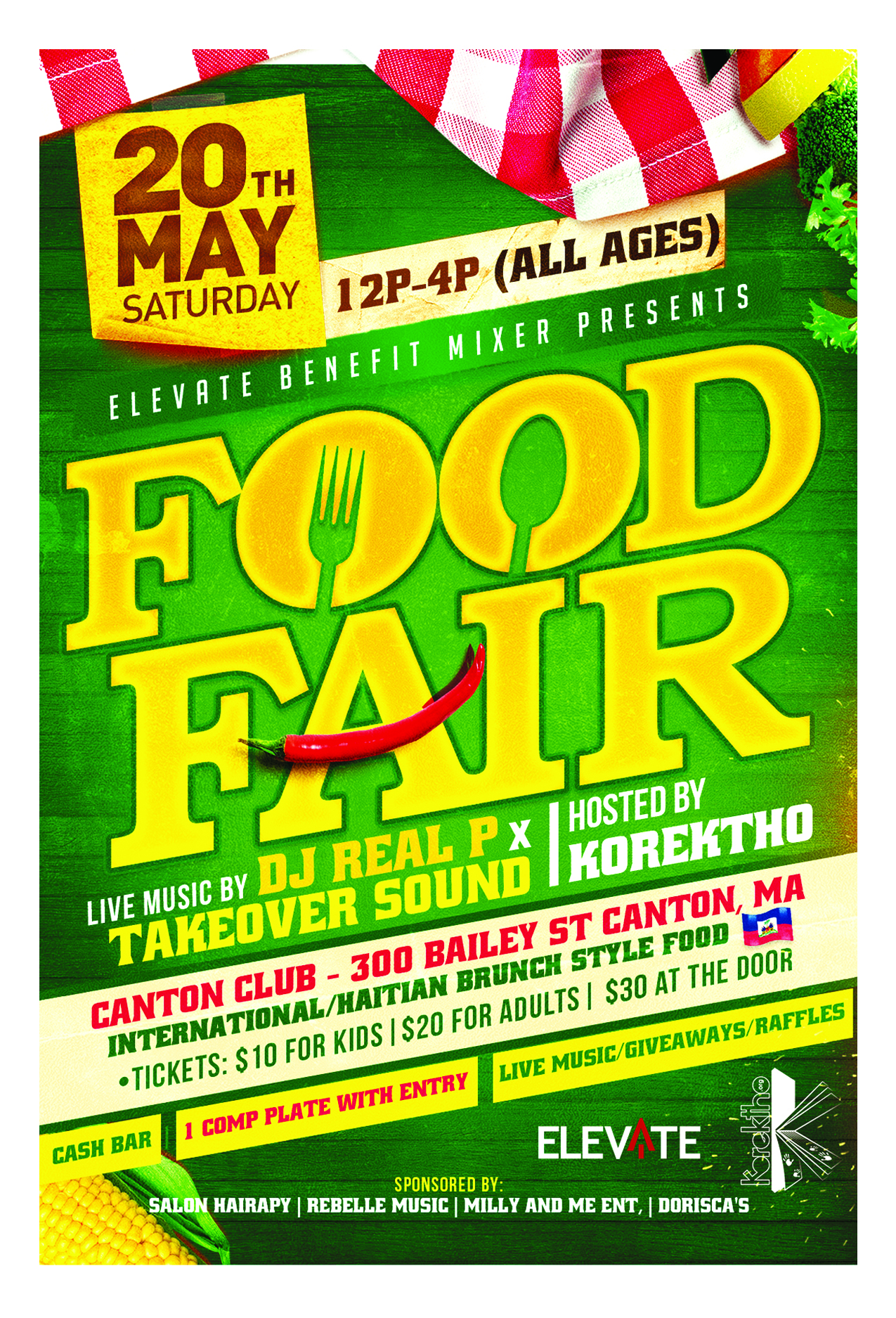 KOREKTHO hosted our first "FOOD FAIR" on Saturday May 20th, 2014 at the Canton Town Club in Canton, MA for about 100 members and friends.
Guests were given complimentary traditional Haitian brunch style foods like Chiktay de Morue (flaked codfish in a spicy vinaigrette), Soup Joumou (squash soup) and Marinad Poul (chicken fritters).
Balloons, face painting and Henna tattoos were provided by Milly and Me Ent with International music provided by DJs Takeover Sound and DJ Real P.
100% of profits will go to the KOREKTHO school to close out their calendar year for the summer.
THANK YOU!
View Pictures HERE!
Dutch ReBelle performs at ICS Arts x Red Bull America presents "New Editions Vol.1"
April 28th, 2017- Special thanks to Red Bull America, Trendstream Media and DJ Chubby Chubb!
Dutch ReBelle performs at the Cochon555 Heritage BBQ Tour in Boston!
Created in 2008 in response to the lack of education around heritage breed pigs, Cochon555 is a nose-to-tail competition dedicated to supporting family farmers and educating chefs and diners about the agricultural importance of utilizing Old World livestock. Shout out to The Record Company!
Dutch ReBelle x nerissa irving meet for a 'yoni poppin' weekend w/ henny & hotwings!
Holistic and Sexual Health Goddess Nerissa Irving of NatuRotica.com came to Boston to host her traveling full-body "Yoni Poppin" workshops in Stoughton, MA at SixViews Studio on March 25th, 2017. After a studio session with Dutch, Nerissa and her husband M-1 of the legendary Dead Prez (more on that soon!), Nerissa and Dutch sat down with radio/podcast personality Ms. Hot Sauce for her Henny and Hotwings Podcast where they spoke on everything nice about the naughty!
Dutch ReBelle kicks off the 617 Sessions launch at Hojoko Boston!
[3.18] DUTCH REBELLE TO SPEAK ON "BEAUTY, BRAINS & HUSTLE" PRESENTED BY CODE ECLECTIC
Dutch ReBelle featured as february's "off the mic" artist
Dutch ReBelle featured in
rock band 4 rivals!
So thankful to Harmonix Music Systems for reaching out and featuring me in the newest feature of the new Rock Band 4's "ROCKUDRAMA" feature! Purchase RB4 for Playstation 4, XBOX and XBOX ONE!
"There is seriously some crazy shit going on these days in Boston music. The city's hip-hop scene is blowing up on a national level, Americana and folks bands are packing venues on both weeknights and weekends, and the time-honored garage rock bands keep ripping up both basements and rock clubs. It's always been futile to try to attempt to pinpoint a "Boston sound," but in 2016, it might be as varied as it has ever been.
While the sound remains impossible to peg, the Record Co. is trying to capture the spirit of the Boston music scene. This week, the Massachusetts Avenue non-profit music incubator has revealed its new compilation Beast: Boston Sessions Vol. 1, a 13-track collection of new material that captures the raw energy of some of Boston's most exciting bands and artists." - Michael Marrotta (Vanyaland.com)
DUTCH REBELLE MAKES HISTORY AT THE MUSEUM OF FINE ARTS IN BOSTON!
10.14.2016: The #MFAOvernight: College Edition was one of four all-night parties taking place in the Linde Family Wing for Contemporary Art as part of #mfaNOW, a season of contemporary exhibitions and events happening at the MFA Boston. This historical introduction of Hip-Hop headliners like me, STL GLD and Hech Rhymes to the series was thanks to curator DJ Leah V. Find out more...HERE
"Dutch ReBelle is in the middle of leaping two big hurdles (Boston MCs rarely go national; hip-hop remains a boys club). Give her a push into the mainstream by downloading "Whatchu Like" — a tasty blend of electro-pop and hip-hop." - Jeb Gottlieb (BostonHerald.com)
NOMINATED FOR "HOP HOP ARTIST OF THE YEAR" AT THE 2015 BOSTON MUSIC AWARDS
FEATURED IN THE KILLERBOOMBOX and Table Manners' new mix series #DS4DP
DUTCH REBELLE JOINS NJ EMCEE RANSOM ON "HASHTAGS" AVAILABLE ON HIS LATEST ALBUM "SOUL KILL" AVAILABLE NOW!
Features also include Royce Da 5'9, 3D Na'Tee, Action Bronson, Freddie Gibbs, Joey Bada$$ and more.
Dutch ReBelle talks kisskiss & Texting Her Celly with MUSEUM TV!
NEW MUSIC:'KISS KISS" EP 9.21
"Whatchu Like" produced by Black Metaphor for the A3C "Beats and Rhymes" project presented by Tunecore is featured on HipHopDX.com!